European Signature Facial - $65
An ideal facial for first time clients or for maintenance of your skin. This facial focuses on cleansing the skin, exfoliating using an enzyme, removal of comedones and calming the skin with a hydrating mask. This facial will leave your skin feeling clean, hydrated and protected.
Deep Clarifying Facial - $85
This treatment is ideal for teens and adults who are experiencing acne breakouts. The treatment focuses on deep pore cleansing using steam and the use of a skin scrubber. Extractions, sanitizing the skin, and unclogging follicles is the focal point of the facial. This facial includes the use of enzymes, salicylic acid mask, and benzoyl peroxide spot treatment.
This treatment is great for anyone with sensitive skin, who is very reactive to products and treatments or experiences lots of redness. This treatment is centered around a therapeutic Oat Milk Mask which is specifically formulated to soothe and hydrate impaired skin conditions of all kinds. The facial also incorporates the use of the cold hammer to help constrict and decrease vasodilation.
Oxygenation Facial Treatment - $80
This treatment is a three step process used to increase blood flow and oxygenation to help remove toxins from the skin and to create an unfavorable environment for the anaerobic P. acne bacteria. This is also an excellent choice for those who desire luminescent skin prior to a big event or those who do not wish to peel. Patients need to be prepared that they may have some redness the day of the treatment due to increased circulation. This formulation contains antioxidants and enzymes that leave skin smooth, purified and glowing.
Chemical Exfoliation
Anti Aging Peel Treatment - $110
This treatment is ideal for anyone wanting to prevent wrinkles and fine lines as well as for those who want to treat the already existing problem areas. This facial involves a TCA chemical peel, which will help slough off dead skin cells, stimulate collagen and elastin production, and increase the natural regenerative process of your skin. Some clients may see results after just one treatment. The recommended treatment plan for serious results, is once every 3 weeks for 4-6 months. A 3 month break is encouraged between peel series.
Corrective Peel Treatments - $110
This treatment is ideal for clients suffering with melasma, hyper-pigmentation, acne and surface texture issues. The chemical peel used here is a Modified Jessner solution with hydroquinone. I also offer an alternative option of a Jessner solution without hydroquinone for those with allergy issues. This treatment provides dramatic results, particularly for those that complete a series recommendation of once every 2 weeks for 4 months.
Smoothing Body Peel improves the appearance and texture of the skin with a combination of exfoliating, smoothing and brightening ingredients such as Lactic Acid, TCA solution, salicylic, and additional lighteners and brighteners. It is an excellent choice for promoting an even skin tone and clear complexion on the arms, legs, back, chest, hands and feet. This treatment will give you a smooth glowing, tightening experience.
Detox Gel Deep Pore Treatment - $80
This treatment helps clear out pores and black heads. It removes unwanted toxins and debris from the skin leaving you with a glowing, healthy, youthful look. This is an excellent choice for detoxifying all skin types. The active blend of antioxidants, lactic, glycolic and salicylic acids exfoliates and promotes a purified and clear complexion. This gentle, deep pore cleansing treatment provides clarifying benefits.
Peel Boosters
These retinol based products can be used on their own or as a booster/end to a peel treatment, they will accelerate the exfoliation process, will lighten tighten and tone the overall skin appearance.
Microdermabration Treatment - $110
This facial includes a microdermabrasion treatment using a diamond tip. During the procedure, the top layer of dead skin cells on the epidermis is removed. Blood and lymph are stimulated underneath the skin, to regenerate the process of new skin cells and collagen production. This treatment will help with rough texture, skin tone, acne scarring, pigmentation issues and minimize fine lines and wrinkles. There is no down time with this treatment, however some redness is expected. For best results it is recommended that a series of 4 - 6 treatments are performed once every 2 to 3 weeks depending on the client skin type and condition.
Needle Free Mesotherapy - $105
Needle-Free Mesotherapy utilizes a low-energy light in combination with a safe, alternating electrical current to treat sagging skin and cellulite. This treatment increases micro capillary circulation, promotes healthy elastin and collagen, targets cellulite tissue, and enhances lymph drainage. Needle-free Mesotherapy helps to deliver therapeutic agents through the skin to targeted areas with specially formulated concentration of serums and gels. There is no down time with this treatment and a series of 6 to 8 treatments are recommended to achieve results.
Microcurrent Facial Treatment - $105
Microcurrent Technology utilizes electrical impulses to help increase ATP (energy of the cells) and collagen production. This enables the tightening and toning of the skin and muscles in the treatment area to provide a youthful and vigorous look. Microcurrent can retrain the muscles beneath the skin eliminating dynamic expression lines and wrinkles while lifting and toning the skin. The electrical impulses mimic the way the brain relays messages to the muscles as it contracts, to help tighten and tone them. There is no down time with this treatment. A series of 6 to 8 treatments are recommended to achieve results.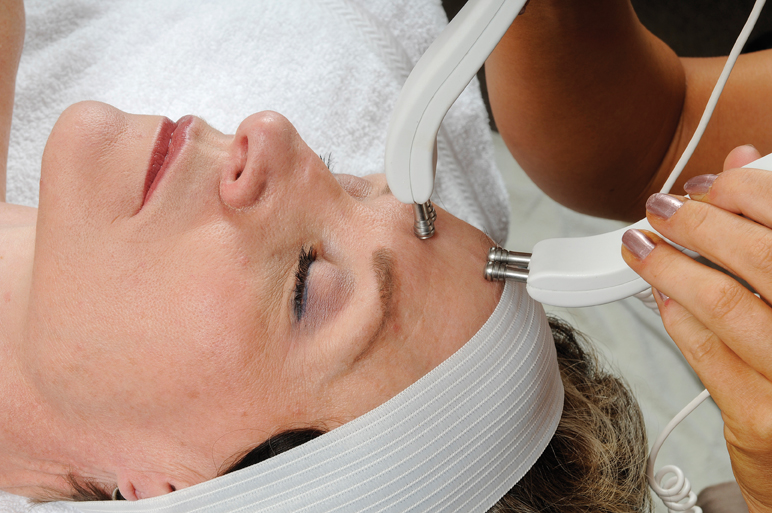 This treatment can be added to all other services. The Ultrasonic Massage device utilizes Massage Probes to send streams of high speed ultrasonic vibrations into the skin layers at incredible speeds of 28,000 vibrations per second. Therefore this will help penetrate high concentrated serums into the deeper layers of the skin, providing more hydration and nutrients to the underlying tissues. The ultrasound treatment can be added during the application of serums to all services.